3MDW101 Under Sink Water Filter by 3M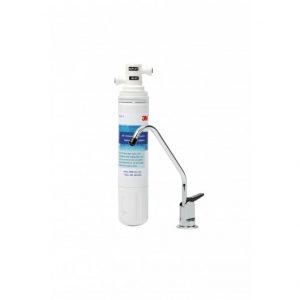 3MDW101 Features:
3MDW101 under sink water filter by 3M helps improve water quality by filtering out contaminants from water such as lead, mercury, sediment and chlorine
3MDW101 under sink water filter dimensions are 2.9"x12.5" with a flow rate of 0.75 gpm
It produces 500 gallons of filtered clean drinking water in quantity
3MDW101 under sink water filter by 3M helps environmental sustainability by helping reduce plastic water bottle waste
Do you already own a water pitcher filter, or do you keep bottled water stored at home? If the answer is yes to either question, then you should consider investing in a 3M under counter water filter. The 3M Drinking Water System provides cleaner, better tasting water by reducing common contaminants found in tap water. Specifically, the 3MDW101 under counter water filter reduces the bad taste and odor of chlorine, sediment, lead, mercury, asbestos and cysts to help provide pure drinking and cooking water and cleaner ice cubes. The 3MDW101 filter fits easily under your kitchen sink and operates through a dedicated faucet, which is included. The 3MDW101 faucet portion sits atop your kitchen counter as it is connected to a primary, cold water line. Wondering about the installation process? If you have an existing sprayer or soap-dispensing hole, the 3MDW101 faucet will rest here. If not, plumbing assistance may be required to set up the faucet. Aesthetically, the 3MDW101 faucet is a neutral chrome color that blends in with any kitchen design from comfortable home to the modern office. The filter itself is petit, measuring 2.9"x12.5" so it wont take up too much space under your sink. The 3MDW101 filters .75 gallons per minute and its filter will deliver 500 gallons of purified water. With a filter life of 500 gallons, the 3MDW101 filters needs to be switched out only once every 6 months. Filter replacement is as easy as a twist off and on. The replacement element for the 3MDW101 is the 3MDW111 replacement filter.