3MDW201 Under Sink Water Filter by 3M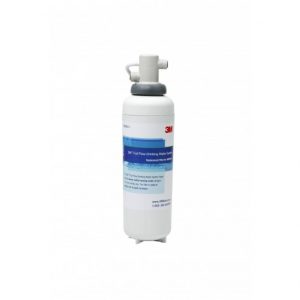 3MDW201 Features:
3MDW201 under sink water filter system by 3M helps improve water quality by filtering out contaminants from water such as lead, sediment and chlorine.
3MDW201 under sink water filter dimensions are 16.25″ x 4.4″ with a flow rate of 2.5 gpm
It has the capacity to produce 6,000 gallons of filtered clean drinking water in quantity.
3MDW201 under sink water filter by 3M helps environmental sustainability by helping reduce plastic water bottle waste.
Are you looking for a water filter that will save time, energy and resources? If so, an Advanced Drinking Water Filtration system, like the 3MDW201 by 3M may be just the thing. The 3MDW201 is a full flow drinking water system that connects to your existing faucet, turning ordinary tap water into fresh, purified water for drinking and cooking. This 3MDW201 removes numerous contaminants from tap water including chlorine, which gives water its unpleasant taste and odor, lead, benzene, toxaphene, cysts, and sediment. The result is water that is healthy to consume for you, your family, and all who use the 3MDW201 water filter. Another great feature of the 3MDW201 is that it is virtually invisible. Unlike faucet attachment or counter water filters, this Advanced Drinking Water filter is out of sight, fitting under your sink. Wondering its dimensions? The 3MDW201 measures 16.25″ x 4.4″. The 3MDW201 is simple to use and install as well. No separate faucet is required and it maintains full water pressure. Once installed, simply use your faucet as normal, for filling glasses of water, coffee pots, or larger pots for cooking. Wondering about the environmental benefits of the 3MDW201? Well, one 3MDW201 filter is equivalent to 45,443 bottles of water and 150 pitcher filters. With a 6,000 gallon capacity the 3MDW201 lasts 12 months before needing to be replaced. This gives you the opportunity to enjoy pure water for longer without hassle, expense, or waste from plastic water bottles. It's an all around win. Filter replacements are as easy as a twist on and twist off. The replacement piece for this 3MDW201 full flow filter is the 3MDW211.