3MDW301 Under Sink Water Filter by 3M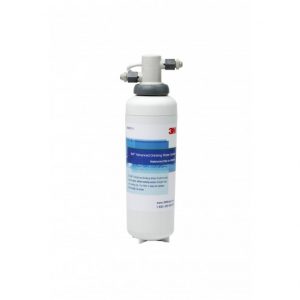 3MDW301 Features:
3MDW301 under sink water filter system by 3M helps improve water quality by filtering out contaminants from water such as lead, asbestos, sediment and chlorine
3MDW301 under sink water filter dimensions are 16.25″ x 4.4″ with a flow rate of 0.75 gpm
It has the capacity to produce 1,000 gallons of filtered clean drinking water in quantity
3MDW301 under sink water filter by 3M helps environmental sustainability by helping reduce plastic water bottle waste
Have you ever wondered how many contaminants are found in your tap water? The answer is, there are numerous contaminants from chemicals to metals and not even bottled water is a guaranteed shield against these toxins. So what is a water filtration system, like 3M's advanced drinking water system? Using carbon block technology, the 3MDW301 is designed to filter out impurities from your drinking water including chlorine, which causes bad taste and odor, lead, asbestos, chloramines, volatile organic compounds (VOCs), the chemical composition of methanol and isobutylene which is found in gasoline, cysts, and dirt particles. But how exactly does the 3MDW301 water filter work? Well, this water filter uses a separate, dedicated faucet and sets up directly under your sink. The faucet piece is not included but there are a variety of designer styles and finishes to chose from to match the décor of your kitchen or bathroom. The addition of a separate faucet allows you to use filtered water when you need for drinking and cooking, and then tap water for tasks like washing dishes. The 3MDW301 is designed with a built-in shut off valve so that there is no need to shut off the water for a filter change. A great feature of the 3MDW301 is its filter usage monitor, which tells you when it is time to replace your existing filter to ensure that you maintain healthy drinking water. Wondering about the filter dimensions? The 3MDW301 is 16.25"x.4" and weighs 5.3 lbs, making for a discrete piece that can remain out of sight. The 3MDW301 delivers .75 gallons per minute. With a 1000 gallon capacity and a 12-month lifespan, the 3MDW301 saves 7,573 bottles of water and is equivalent to 25 pitcher filters. This means less hassle, less money spent, and less waste for the environment. Replacing the 3MDW301 is easy and painless. It's a simple as twist on, twist off. The replacement filter for the 3MDW301 is the 3MDW311.