Aquachoice A4H Under Sink Water Filter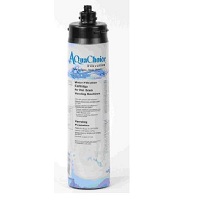 Aquachoice A4H Features:
Aquachoice A4H under sink water filter plumbed-in to separate source uses submicron technology process
It helps improve water quality by filtering out particles from water such as dirt, chlorine and giardia
Aquachoice A4H dimensions are 14.5"x3.25" diameter with no need for an electrical connection
It produces 1,500 gallons of filtered clean drinking water in quantity
Changing cartridge of Aquachoice A4H water filter system is easy and quick
Are you looking for fresh, filtered water, even for your morning coffee? The ACH-A4H, by Aquachoice is a water filter cartridge for hot cup vending applications. No longer is filtered water limited to a cold glass of water. The ACH-A4H allows you to consume hot filtered water for a variety of brews including coffee, tea, hot chocolate, cappuccino, soup, or just plain hot water. The Aquachoice A4H water purification system eliminates impurities such as chlorine, which causes bad taste and odor, cyst, asbestos, dirt particles and cloudiness, giving you a beverage that tastes fresh every time. The ACH-A4H is a great filter device for any public space like offices, restaurants, and universities. The A4H is simple to install, is small in size at 14.5"x3.25" x12.75". It fits inside of a standard hot cup vending machine and attaches to a 3/8" water line. It filters hot water up to 100 degrees Fahrenheit. The ACH-A4H is a durable and lasting product and only needs to be replaced once every 6 months, or after about 1,500 gallons of filtered water. Simply install another ACH-A4H the same way as the first installation. Aquachoice A4H will give you a different outlook on filtered water, because of the better taste, smell, and quality water put into your food and drinks.
What is the ideal position of the cartridge for water filter installation?

The cartridge should be installed vertically hanging down for water filter installation.

Is it recommended to flush the cartridge after water filter installation?

Yes, flush the cartridge by running water through the water filter for about three minutes at full flow.

Should a saddle valve be used for water filter installation?

No, saddle valve for connection should not be used for water filter installation.

What kind of water line should be used for water filter installation?

For water filter installation, it is recommended to use 3/8" water line.