Aquachoice AAC Under Sink Water Filter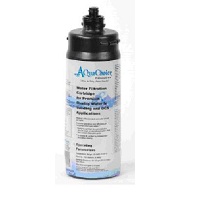 Aquachoice AAC Features:
Aquachoice AAC under sink water filter uses submicron technology process
It helps improve water quality by filtering out contaminants from water such as cysts, chlorine and very small particles
Aquachoice AAC dimensions are 10.25"x3.25" diameter with no need for an electrical connection
It should be installed using ⅜" water line and has rated capacity of 1,500 gallons
Changing cartridge of Aquachoice AAC water filter system is quick, clean and easy
Are you looking for a filter for both cold and hot water vending applications? If the answer is yes, then the ACH-AAC by Aquachoice is what you need. The ACH-AAC is a water filter cartridge for cold cup vending machines and can also be used for Office Coffee Services (OCS) to bring you pure, filtered water for any beverage. With the increasing need to monitor waste and environmental pollution, hot and cold cup vending machines like the ACH-AAC are ideal for people to receive beverages on the go, without the expense of money or plastic waste. Also, The Aquachoice AAC guarantees to filter out contaminants that some bottled beverages leave in their drinks, including chlorine, cyst, and cloudiness. The ACH-AAC is a great option for places that receive a lot of foot traffic, like offices and businesses. It allows people to receive water for a variety of drinks and even foods, like coffee, tea, soup, juice or just plain drinking water without having to worry about contamination. Aquachoice AAC water purification system is discreet in size, 10.25"x3.25" in diameter and 8.25" long, so that it fits inside vending and OCS machines using a 3/8" water line. The ACH filters water from 35 degrees to 100 degrees Fahrenheit. The ACH-AAC works for 1,500 gallons of filtered water and lasts for about 6 months before needing to be replaced. Replacement of Aquachoice AAC cartridge is the same quick and easy process as initial installment.
For water filter installation, what should be the position of the cartridge?

For water filter installation, the cartridge should be installed in hanging down position vertically.

Is it recommended to flush the cartridge after water filter installation?

Yes, flush the cartridge by running water at full flow through the water filter for about 3 minutes.

Should a saddle valve be used for water filter installation?

No, saddle valve for connection should not be used for water filter installation.

For water filter installation, what kind of water line should be used?

Use 3/8" water line for water filter installation.