Aquachoice AOCS Under Sink Water Filter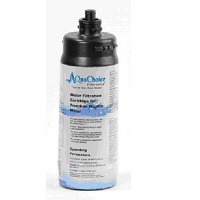 Aquachoice AOCS Features:
Aquachoice AOCS under counter plumbed-in water filter uses submicron technology process
It helps improve quality of water, coffee and beverages by filtering out contaminants from water such as cysts, chlorine and reduces turbidity
Aquachoice AOCS dimensions are 10.25"x3.25" diameter with flow rate 0.5 gpm
It should be installed using ⅜" water line and keep 2 ½" space for replacement of cartridge
Changing cartridge of Aquachoice AOCS water filter system is quick, clean and easy and recommended every 6 months
Have you ever thought about filtering the water that goes into your coffee in the same way you filter your tap water at home? The ACH-AOCS by Aquachoice will do just that. The ACH-AOCS is a water filter cartridge for coffee service applications like Office Coffee Systems and hot water vending machines. The Aquachoice AOCS filters water for beverages like coffee, cappuccino, espresso and more so that it is safe to drink. The ACH-AOCS filters out contaminants found in normal tap water such as asbestos, cysts, dirt particles, cloudiness, and chlorine, which leads to bad taste and odor. This water filter cartridge also provides antimicrobial protection, which prevents any bacterial growth inside the water. What is so alluring about the AOCS water purification system is that it encourages people to drink healthy, save money, and reduce waste. The ACH-AOCS does this by providing you with fresh, filtered water for a variety of coffee drinks on the go, without the expense of prepackaged drinks or the waste in producing and throwing away bottles. Aquachoice AOCS is a great device for coffee service applications in most offices or places of business. The ACH-AOCS is convenient to install. It is 10.25"x3.25" in diameter and 8.25" in length and fits discreetly inside coffee service machines. To replace, simply remove the existing filter cartridge and replace it with another ACH-AOCS, which attaches to a 3/8" water line. The ACH-AOCS provides 1,500 gallons or about 6 months worth of filtered water for coffee applications before needing to be replaced.
Is it recommended to flush the cartridge after water filter installation?

Yes, the cartridge should be flushed by running water at full flow through the water filter for about 3 minutes.

What is the ideal position of the cartridge for water filter installation?

The cartridge should be installed vertically hanging down for water filter installation.

For water filter installation, what kind of water line should be used?

Use 3/8" water line for water filter installation.

Should a saddle valve be used for water filter installation?

No, saddle valve for connection should not be used for water filter installation.