Aquachoice AOW4 Under Sink Water Filter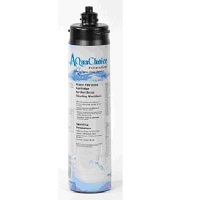 Aquachoice AOW4 Features:
Aquachoice AOW4 water filter plumbed-in to separate source for drinking water uses submicron technology process
It helps improve water quality by filtering out contaminants from water such as chlorine cysts and lead, and prevents from limescale
Aquachoice AOW4 dimensions are 14.5"x3.25" diameter with no need for an electrical connection
It produces 2,000 gallons of filtered clean drinking water in quantity for water coolers
Changing cartridge of Aquachoice AOW4 water filter system is easy and recommended in 6 months
Are you looking for a filter device to purify water for larger sized bottleless coolers and drinking fountains? Aquachoice's ACH-AOW4 was designed to provide the same great filter features as the ACH-AOW2, but with a longer filter life. The ACH-AOW4 cartridge will filter about 2,000 gallons of drinking water and should last more than 6 months. This makes the Aquachoice AOW4 a great filter cartridge for drinking fountains and bottleless coolers that receive daily usage, found in most public spaces or places of businesses. It filters water so that it is clean and healthy for multiple uses, from water to juice. The ACH-AOW4 filters out many contaminants that are often left in both fountain and bottled water including lead, dirt particles, asbestos fibers, cysts, and chlorine, the culprit of bad taste and odor. Aquachoice AOW4 water purification system also makes water safe to drink by providing protection against bacterial growth and lime-scale build up. The ACH-AOW4 is an environmentally friendly option to help reduce waste and pollution of bottles. The size of ACH-AOW4 is 14.5"x3.25" in diameter and 12.75" in length, which allows it to fit inside most bottleless coolers or drinking fountains and attach to a 3/8" water line, with no electrical connection required. Replacement of the Aquachoice AOW4 water filter cartridge is the same as installation.
For water filter installation, what kind of water line should be used ?

For water filter installation, it is recommended to use 3/8" water line.

Is it recommended to flush the cartridge after water filter installation?

Yes, flush the cartridge by running water through the water filter for about 3 minutes at full flow.

For water filter installation, what should be the position of the cartridge?

For water filter installation, the cartridge should be installed vertically hanging down.

Should a saddle valve be used for water filter installation?

It is not recommended, saddle valve for connection should not be used for water filter installation.