Aquasana AQ 4600 Under Sink Water Filter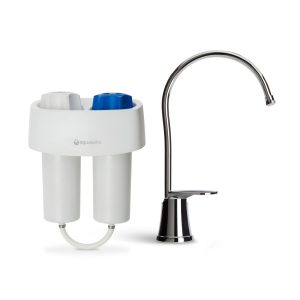 Aquasana AQ 4600 Features:
Aquasana AQ 4600 under sink water filter uses Claryum™ three-stage filtration process
It helps improve water quality by filtering out contaminants from water such as lead, mercury, sediment, chemicals and chlorine
Aquasana AQ 4600 dimensions are 12″(L) x 7″(W) x 4″(H) and it weighs 4 pounds
It produces 500 gallons of filtered clean drinking water in quantity
Aquasana AQ 4600 water filter system helps environmental sustainability by helping reduce plastic water bottle waste
Have you ever poured a glass of tap water and found that it has a funny taste? Aquasana's Basic Chrome water filter, the AQ-4600, is an under-sink water filter designed to remove harmful contaminants too often found in tap water and deliver pure, tasty drinking water. Using Aquasana Claryum™ filtration technology, the AQ-4600 has a three-stage filtration system using a sleek, chrome countertop faucet and two cartridges that fit neatly under the sink. The AQ-4600 forces your tap water under pressure removing three times more contaminants than other pitcher filters. Cartridges A and B work together, filtering out gasoline additives, cysts, sediment, and chemicals such as chlorine, lead, and mercury, leaving you with clean, fresh water. Aquasana AQ-4600 has a neat design, weighing just 4 pounds and is 12″(L) x 7″(W) x 4″(H), making it a great filter for any space. This Basic Chrome filter comes in a neutral color that may fit any interior design of a home, office or kitchen. The AQ-4600 not only cuts odor and improves tap water taste, but it also conserves the water's healthiest minerals including calcium, potassium and magnesium for maximum hydration. These nutritious minerals are essential to the human body. Aquasana designed this filter with environmental benefits in mind as well. The Aquasana AQ-4600 helps reduce waste and pollution as well as the amount of resources used in creating plastic water bottles. The AQ-4600 filter supplies 500 gallons or 6 months of purified water and comes with a simple kit for quick installation. The replacement element for Aquasana's under-sink basic chrome water filter is the AQ-4035 that connects to a kitchen sink faucet. Aquasana's Water for Life program sends an automatic AQ-4035 replacement filter every 6 months so that users can enjoy the benefits of purified water without inconvenience. Pair this under-sink water filter with one of Aquasana's colorful glass water bottles, and use it for water on the go.