Aquasana AQ 4601 Under Sink Water Filter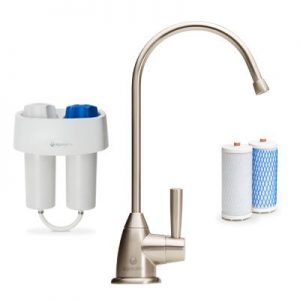 Aquasana AQ 4601 Features:
Aquasana AQ 4601 under sink water filter is offered in many classy colors, such as, Chrome, Brushed Nickel, and Oil-Rubbed Bronze
It uses Claryum™ three-stage filtration process and helps improve water quality by filtering out contaminants from water such as lead, mercury, sediment, chemicals and chlorine
Aquasana AQ 4601 dimensions are 12″(L) x 7″(W) x 4″(H) and it weighs 4 pounds
It produces 500 gallons of filtered clean drinking water in quantity
Aquasana AQ 4601 water filter system helps environmental sustainability by helping reduce plastic water bottle waste
Whether water is your go-to drink, or something you choose when all the soda and juice are gone, the Aquasana AQ-4601 may just be for you. The Aquasana AQ-4601 is an under-sink water filter that turns tap water into delicious and nutritious drinking water. Aquasana AQ-4601 comes in three stylish colors: Chrome (AQ-4601.56), Brushed Nickel (AQ-4601.55) and Oil-Rubbed Bronze (AQ-4601.62). Whether you prefer the filter in chrome to match a sleek and modern office, or the brushed nickel for an elegant and classy kitchen, the function is the same. The AQ-4601 weighs 4 pounds and measures 12″ x 7″ x 4" giving it versatility. The AQ-4601 works with a unique style. Each Aquasana AQ-4601 water filter comes with a nozzle on the faucet for ease of use. More importantly, like all other Aquasana water filters, the AQ-4601 removes harmful contaminants found in tap water. Using Aquasana Claryum™ filtration technology, the AQ-4601 filters out gasoline additives, cysts, sediment, and chemicals such as chlorine, lead, and mercury. Aquasana AQ-4601 functions by way of a three-stage filtration system featuring two cartridges that fit under the sink and work to deliver not only healthy drinking water, but water that smells fresh and tastes great. After filtration, only minerals like calcium, potassium and magnesium are left, which are essential to the human body. The AQ-4601 is also good for the environment and for people. It reduces pollution and amount of plastic wasted through water bottles, as well as encourages people to drink more water. The AQ-4601 delivers 500 gallons or 6 months of purified drinking water. The replacement piece for Aquasana's under-sink AQ-4601 water filter is the AQ-4035. Aquasana's Water for Life program sends an automatic AQ-4035 replacement filter every 6 months so that users can enjoy the benefits of purified water without inconvenience.