Brita FF-100 Faucet Water Filter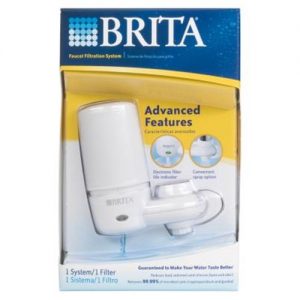 Brita FF-100 Features:
Brita FF-100 offers complete 2 stage water filtration through the faucet filter
It helps improve water quality by filtering out contaminants from water such as lead, mercury and other particles
Brita FF-100 dimensions are 6.7 x 2.5 x 9.8 inches and it weighs 12 ounces
It produces 100 gallons of filtered clean drinking water in quantity
Brita FF-100 is an eco-friendly water filter that helps reduce plastic water bottle waste
Are you ready to experience filtered water at its finest, straight from your faucet at home or office? The FF-100 is Brita's Complete Faucet Filtration System, designed to deliver you nutritious and great tasting water free from contaminants. Brita's FF-100 faucet filter is petite in size so that it doesn't take up too much sink space when it attaches to your existing spout. Want to know how to install and use this faucet filter? It's simple, as Brita FF-100 screws on to any standard faucet and a built in filter sends purified water through the faucet filter. No tools or external help is required. To receive filtered water, simply flip the switch; for unfiltered water flip the switch back. The Brita FF-100 is a contemporary looking faucet mount that comes in three neutral color options: all white, black and chrome, or white and chrome. All three offer a sleek look that will help enhance the design of any interior space, be it a home kitchen or place of business. But with great style also comes great function. Brita's faucet filter FF-100 is designed to remove numerous contaminants that may be prevalent in tap water including asbestos, atrazine, benzene, lead, chlorine, particulates and numerous others. The result is fresh, filtered water that is safe to drink or cook with. The FF-100 features three flow options that allow you to chose filtered water for drinking and cooking or tap water in a stream or flow, for chores like dishes and cleaning. Brita FF-100 also features an electronic filter indicator. When the LED light indicator is green, your filter is good for filtration, and when the indicator is red, this means it's time for a filter change. Filter replacements only need to be made about every two months so that you can enjoy healthy, filtered water wherever you take your faucet tilter, saving you time, money, and energy all in one. The replacement filter is the Brita FR-200.