Brita OPFF-100 Faucet Water Filter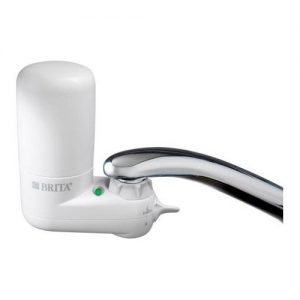 Brita OPFF-100 Features:
Brita OPFF-100 faucet filter is easy to install and use for faucet water filtration
It helps improve water quality by filtering out contaminants from water such as lead, chlorine and other particles
Brita OPFF-100 fits any standard faucet
It produces 94 gallons of filtered clean drinking water in quantity
Brita OPFF-100 is an eco-friendly water filter that helps reduce plastic water bottle waste
Have you ever wondered about the contaminants that may be present in your tap water? The truth is, tap water may contain contaminants that may be bad for your health. To fight contaminants in faucet water, Brita has created an On-tap Basic Faucet Filtration System, the OPFF-100 to make your water safe and delicious to drink. A lever on one side lets you switch from filtered water to unfiltered water to suit your needs. Brita OPFF-100 faucet filter attaches to your existing faucet spout, and a built in filter removes contaminants and sends purified water into your sink. The OPFF filters out lead, which causes the corrosion of plumbing, asbestos, total trihalomethanes, chlorine, cysts, and numerous other contaminants found in tap water. The OPFF-100 uses a mechanical meter to keep track of the amount of water that has been filtered so that you know when it is time for a filter replacement. A green filter light tells you that there is plenty of filter life left in your OPFF-100, and a red light indicates that you should change the filter. The OPFF-100 is a great product not only because of the number of contaminants it removes, but also because of its ease of use. Set up of the OPFF-100 requires no tools and installs in minutes. Brita OPFF-100 faucet filter fits all standard faucets, making it versatile enough for a kitchen, bar, office, or public location. More importantly, the OPFF-100 is portable, so you can use it wherever there is a standard faucet. With the OPFF-100, you can enjoy filtered water from the convenience of your own home or in public spaces without the expense and waste of plastic water bottles. The OPFF-100 comes in a neutral white color and filter; filter replacements may be chosen in white or chrome. Brita OPFF-100 faucet water filter lasts for about 100 gallons, giving you about two months of use before needing to be replaced. The replacement filter for the OPFF-100 is the Brita FR-200.