Brita SAFF-100 Faucet Water Filter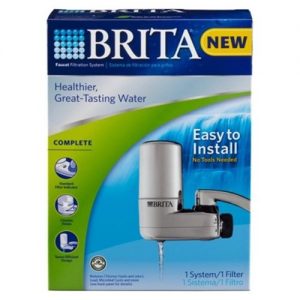 Brita SAFF-100 Features:
Brita SAFF-100 faucet filter is easy to attach with spray and stream features of faucet water filtration
It helps improve water quality by filtering out contaminants from water such as lead, chlorine and other impurities
Brita SAFF-100 measures 10.1 x 6.4 x 3 inches and weighs 12 ounces
It produces 100 gallons of filtered clean drinking water in quantity
Brita SAFF-100 is an eco-friendly water filter that helps reduce plastic water bottle waste
The Brita SAFF is Brita's Complete Chrome Faucet Filtration System, a faucet water filter designed to remove numerous impurities from tap water to leave you with healthy and delicious drinking water. Interested to know what kinds of contaminants Brita's SAFF-100 will filter out? The SAFF-100 removes asbestos, carbon tetrachloride, lead, lindane, Volatile Organic Compounds (VOCs), chlorine's bad taste and odor, and countless other harsh chemicals and heavy metals. Not only does Brita's SAFF-100 work effectively, it is easy to use. Its space saving design and petite size allows it to attach easily to an existing faucet without adding too much bulk to a sink. A lever on one side lets users switch from filtered water to unfiltered water whenever you need. Children and adults alike can use the SAFF-100, as it only requires that you turn the faucet on. Brita SAFF-100 faucet filter is also versatile because it can fit any standard faucet, which allows you to enjoy filtered water in an RV, an outside bar, or an indoor kitchen—wherever you take this faucet water filter. The SAFF-100 comes in a neutral chrome color so that it will not only match most spaces, but enhance the look as well. The SAFF-100 features a standard filter indicator which lets you know when it's nearing time to change the filter. Filter replacements are needed only about once every two months, with the Brita FR-200. Replacement is just as painless as installation and setup. A faucet filter system like the Brita SAFF-100 is perfect for families and kitchens where meals are often cooked and fresh drinking water is needed. With the SAFF-100 never worry again about the financial and environmental effects of plastic water bottles. Instead, enjoy filtered water from the convenience of your own home and without hassle.