Brita Everyday Pitcher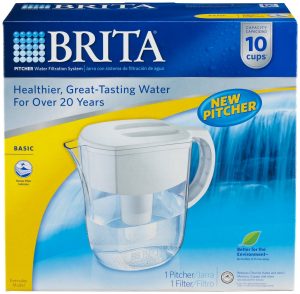 Brita Everyday Features:
Brita Everyday pitcher has a user friendly design with high capacity for everyday use
It helps improve water quality by filtering out contaminants from water such as mercury, chlorine and sediment
Brita Everyday pitcher dimensions are 10.9 x 5.6 x 10.5 inchesy
It produces 10 eight oz. glasses of filtered clean drinking water in quantity
Brita Everyday pitcher is an eco-friendly water pitcher that helps reduce plastic water bottle waste
Ask yourself this simple question – what do you need everyday? … Clean, pure, good tasting filtered water, right? Well, there may be a lot of other things you may need everyday, but this is surely one of the most important needs. And the EVERYDAY BRITA water pitcher suitably does a good job of satisfying this everyday need at the home or office. In addition, the EVERYDAY BRITA water pitcher has a larger capacity or producing 10 eight oz glasses of filtered water to satisfy the everyday needs of ourselves, our family members, loved ones or office co-workers. Its basic design gives it universal appeal and the quality of the BRITA water filter makes sure to fight contaminants to keep the drinking water clean. . It helps reduce taste and odor of additives like chlorine used to control microbes. The EVERYDAY BRITA water pitcher also helps fight chemicals and metals, such as, copper, cadmium, and mercury that may end up in tap water due to various factors, like, corrosion of household plumbing systems, erosion of natural deposits, galvanized pipes and discharges from refineries or runoff from landfills. Use it for cooking, drinking, serving, making tea, making coffee or various other purposes. Whatever the objective may be, the large quantity of the EVERYDAY BRITA water pitcher will make it possible to have clean, filtered water as much as you need it everyday.