Brita Pacifica Pitcher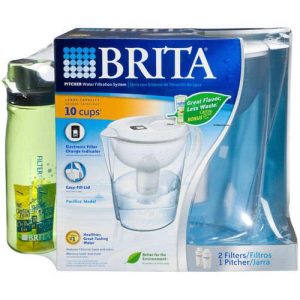 Brita Pacifica Features:
Brita Pacifica pitcher has a contemporary design with high capacity
It helps improve water quality by filtering out contaminants from water such as lead, chlorine and sediment
Brita Pacifica pitcher is easy to fill with a flip top lid
It produces 10 eight oz. glasses of filtered clean drinking water in quantity
Brita Pacifica pitcher is an eco-friendly water pitcher that helps reduce plastic water bottle waste
The PACIFICA BRITA water pitcher is another large pitcher offered by BRITA in a modern design, making it suitable for use at home or the office for filtering and keeping higher amounts of water. It has the capacity of producing 10 eight oz glasses of filtered water. The large PACIFICA BRITA water pitcher includes the smart electronic filter change indicator – a user-friendly tool that helps keep track of water filter usage and indicates when the water filter needs to be changed. This feature of the PACIFICA BRITA water pitcher makes it simple to ensure continuity in the supply of large amounts of filtered, clean water for the household or the work place. In addition, a flip-top lid is built in the PACIFICA BRITA water pitcher for easy refilling. The PACIFICA BRITA water pitcher comes prepared with the qualities of BRITA water filters for pitchers in producing good tasting, clean, filtered water. It helps reduce taste and odor of additives like chlorine used to control microbes. The PACIFICA BRITA water pitcher also helps fight chemicals and metals, such as, copper, cadmium, and mercury that may end up in tap water due to various factors, like, corrosion of household plumbing systems, erosion of natural deposits, galvanized pipes and discharges from refineries or runoff from landfills. The PACIFICA BRITA water pitcher is found to be a good fit for parties or sports team events at the home or office to make sure no one misses the good taste of clean, filtered water.