Culligan FM-15A Faucet Water Filter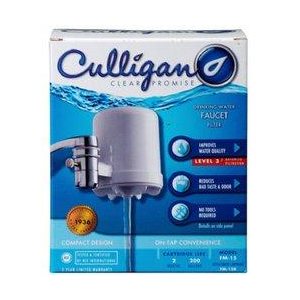 Culligan FM-15A Features:
Culligan FM-15A is a level 3 faucet water filter with advanced filtration qualities
It helps improve water quality by filtering out contaminants from water such as lead and chlorine
Culligan FM-15A dimensions are 3.5"x5.75"x6.75
It produces 200 gallons of filtered clean drinking water in quantity
Culligan FM-15A is an eco-friendly water filter that helps reduce plastic water bottle waste
Do you often find bad taste and odor in your drinking water at home? If so, you're not alone. Many people experience the same problem with their tap water, and that's because it is often riddled with contaminants, some of which are used to purify the water but end up harming the body. These harmful impurities are what a faucet water filter like the Culligan FM-15A is designed to remove. The Culligan FM-15A is a level 3 faucet filter, which uses an advanced filtration system to remove impurities from water including cryptosporidium, giardia, cysts, lead, and chlorine, which produces bad taste and odor. Wondering exactly what is a faucet filter? The FM-15A is a faucet attachment that connects to your existing faucet spout. How big is it? The Culligan FM-15A faucet water filter measures 3.5"x5.75"x6.75" and weighs less than one pound. The FM-15A's petit size makes it so that it fits in your sink without taking up too much space. This also means that the FM-15A can be used on bar faucets and bathroom faucets to give you fresh water from any location in the home. But the advantages of a faucet water filter like Culligan's FM-15A are more than just manageable size. The FM-15A is also easy to use and install. Installation takes just moments, as the FM-15A screws onto your existing faucet head and requires no tools to set up. You can choose to use filtered water at any moment by just pulling a valve, at which purified drinking water will flow at a rate of .5 gallons per minute. When you want to go back to unfiltered water for cleaning or dishes, simply push the valve back. It's that simple. The Culligan FM-15A comes in a neutral white color to match the décor of almost any space. The Culligan FM-15A is also a durable, long-lasting and efficient product. It features a 200-gallon water filter life and has a 2-year warranty. It will save you time and money in the end from less weekly spending on plastic water bottles or monthly pitcher filter replacements. With this faucet filter, replacements occur only once every 2 months. The replacement element for the FM-15A is the Culligan FM-15RA Level 3 faucet filter replacement cartridge, which can be bought in advance for convenience.