Culligan FM-25 Faucet Water Filter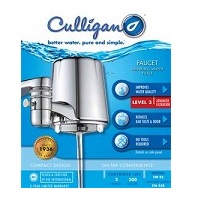 Culligan FM-25 Features:
Culligan FM-25 uses an advanced 3 stage filtration system
It helps improve water quality by filtering out contaminants from water such as dirt, lead and chlorine
Culligan FM-25 dimensions are 5.5"x3.5"x6.5" and it weighs 16 ounces
It produces 200 gallons of filtered clean drinking water in quantity
Culligan FM-25 is an eco-friendly water filter that helps reduce plastic water bottle waste
Why should you chose the Culligan FM-25 faucet mount water filter for your home? Because the FM-25 uses an advanced 3 stage filtration system to filter out harmful contaminants from your tap water, including the number one water quality issue, bad taste and odor. And Culligan's FM-25 will improve not only the taste and smell of your tap water by reducing chlorine, but it will also remove dirt particles, lead, cysts such as giardia and cryptosporidium, turbidity, atrazine, and lindane. Wondering how Culligan's FM-25 faucet water filter works? It's simple. The FM-25 attaches to your existing faucet spout. Using a lever on one side of the FM-25, you can alternate between filtered water to fill up a glass or a pot for cooking, and unfiltered water when you simply want to wash dishes. What are some of the advantages of the FM-25? Well, the FM-25 requires no installation and no tools. It may also be used on any type of faucet. Be it in a bar, home kitchen, office kitchen, or bathroom, the function is always the same. Culligan's FM-25 faucet water filter is designed not only to function well with your lifestyle, but to match it in style. No need to worry about a bulky and ugly facuet mount in your sink. The FM-25 is small in size, measuring 5.5"x3.5"x6.5" and weighing 16 ounces. It fits easily in your sink without creating clutter. The FM-25 comes in a neutral yet sleek chrome color that will not only match, but may enhance the look of your interior space. But that's not all. The FM-25 helps you save. The FM-25 filters 200 gallons worth of water and lasts 2 months before the filter needs to be replaced. At the end of the day, with the FM-25, you save money that may have been used on numerous plastic water bottles, and you save time with quick, bi-monthly filter replacements. The replacement piece for the FM-25 is the Culligan FM-25R faucet mount replacement filter.