Culligan HSH-C135 Shower Filter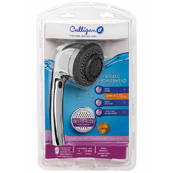 Culligan HSH-C135 Features:
Culligan HSH-C135 is a hand-held shower filter
It helps improve shower water quality by filtering out contaminants from water such as chlorine and sulfur
Culligan HSH-C135 dimensions are 4.5" x 8.5" x 14" and weighs 2.2lbs
It produces 10,000 gallons of filtered clean shower water in quantity
Culligan HSH-C135 shower filter protects hair and skin while showering
Are you looking for the same luxury of filtered water when you take a shower that you can get when you drink a cold cup of water? Culligan has created a level 2 hand-held filtered showerhead, the HSH-C135, that will replace your old shower head and deliver you filtered water from the convenience of your bathroom. The Culligan HSH-C135 showerhead reduces sulfur odor, chlorine, and limescale for less harsh treatment that will make for softer, cleaner skin and hair. The HSH-C135 features an anti-clog rubber spray nozzle with a unique hand-held design, and a flexible metal shower hose, which allows you to reach isolated muscles for a massage. With the HSH-C135, you can choose from five spray settings to suit your preference. What about setting up the Culligan HSH-C135 shower filter? This easy to install shower head requires no tools for easy installation, and with a 10,000 gallon filter capacity, the HSH-C135 will provide with filtered water for 6 months before needing to be replaced, so you can enjoy filtered water for longer. The HSH-C135 comes equipped with a cartridge change reminder sticker. Wondering about Culligan's HSH-C135 specifications? This HSH-C135 showerhead filter has a maximum flow rate of 2.5 gallons per minute, weighs 2.2 lbs, and measures 4.5" x 8.5" x 14". It comes in a polished chrome finish that is neutral enough to match the interior of most bathrooms, but also provides a sleek look.