Culligan ISH-100 Shower Filter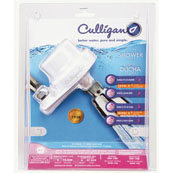 Culligan ISH-100 Features:
Culligan ISH-100 is a Level 2 Inline shower filter
It helps improve shower water quality by filtering out contaminants from water such as chlorine and sulfur
Culligan ISH-100 dimensions are 3.5"x7.5"x10"
It produces 10,000 gallons of filtered clean shower water in quantity
Culligan ISH-100 shower filter protects hair and skin while showering
Are you concerned about the quality of water that you shower with everyday? Well, Culligan has created the ISH-100 Level 2 Inline shower filter with your benefit in mind. The Culligan ISH-100 allows any standard showerhead to be converted to a filtered showerhead. The ISH-100 filters out sulfur odor, heavy metals, sediment, chlorine, and lime scale to help prevent damaged skin and hair, give you relief from dry skin and scalp, reduce fading in color-treated hair and provide you with an overall better shower experience. The ISH-100 has a 10,000-gallon filter capacity, which will deliver clean water for 6 months. Culligan's ISH-100 replaces your existing faucet and attaches to the existing ½-inch shower arm at one end and then to the existing showerhead at the other, without affecting the height or positioning of the showerhead. Installation requires no tools so set up and replacement changes are a breeze. Want to know the dimensions? The ISH-100 measures 3.5"x7.5"x10" making it large enough to provide you with a wonderful showering experience, but without the bulk. The ISH-100 works at 2.5 gallons per minute, so you won't notice a difference between your existing showerhead and this shower filter. The ISH-100 comes in a neutral white color, which allows it to blend well with most bathroom decors ranging from traditional to contemporary. The replacement filter for the ISH-100 is a WHR-140 cartridge.