Culligan ISH-200 Shower Filter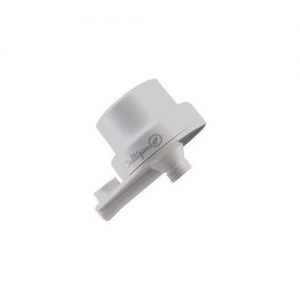 Culligan ISH-200 Features:
Culligan ISH-200 is an Inline shower filter
It helps improve shower water quality by filtering out contaminants from water such as chlorine and sediment
Culligan ISH-200 dimensions are 10"x7.5"x3.5"
It produces 10,000 gallons of filtered clean shower water in quantity
Culligan ISH-200 shower filter protects hair and skin while showering
Have you ever thought that quality the water you use to shower is just important as the products you use when showering? Designed to make a good shower even better, Culligan's Inline Shower Filter, The ISH-200 is ideal for anyone who enjoys his or her existing showerhead but has concerns about the water coming from that showerhead. The ISH-200 attaches easily to the existing standard 1/2-inch shower arm at one end and then to the existing showerhead at the other, without changing the height or positioning of the showerhead. The key filtration features of the ISH-200 are chlorine, heavy metals, sediment, sulfur odor, and lime scale reduction, in order to provide you with softer skin and hair, relief from dry skin and scalp, and reduced fading in color-treated hair from lessened exposure to chlorine in the shower. The scale reduction also helps soften the water for a better shower experience. The ISH-200 works on all types of water including well water and installs in minutes, requiring only a wrench. Want to know the ISH-200 specifications? This inline shower filter measures 10"x7.5"x3.5" and produces 2.5 gallons per minute, making for a product that works just as well as your existing faucet but with increased benefits. The ISH-200 has a 6 month, or 10,000-filter life capacity. Its replacement filter cartridge is the WHR-140. The ISH-200 comes in sleek chrome, making it the perfect fit for traditional bathroom decors, modern designs and anything in between.