Culligan RDSH-C115 Shower Filter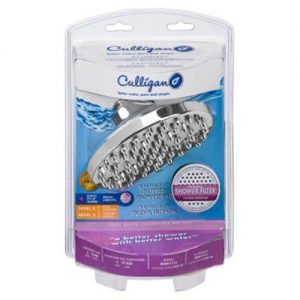 Culligan RDSH-C115 Features:
Culligan RDSH-C115 is a showerhead filter with RainDisc shower filtration system
It helps improve shower water quality by filtering out contaminants from water such as chlorine and sulfur
Culligan RDSH-C115 dimensions are 12"x8"x5.5"
It produces 10,000 gallons of filtered clean shower water in quantity
Culligan RDSH-C115 shower filter protects hair and skin while showering
Do you take extra care to make sure your showering experiences are as relaxing and nourishing as possible? If so, have you ever considered using a shower water filter? With Culligan's RainDisc shower filtration system, you can experience a soothing spa-like shower each and every time you step under the spout. The Culligan RDSH-C115 luxurious showerhead filter combines the comforts of a rain showerhead with Culligan's well-known filtration system. This Culligan filtered showerhead delivers better water for a better shower, removing several harmful contaminants from water including 97 percent of chlorine, sulfur odor and scale build up. The result is softer cleaner skin and hair, as there is no longer the threat of dryness, itchiness or breakage from harsh chemicals. Wondering about the RDSH-C115's lifespan? Each Culligan filtration cartridge filters a full 10,000 gallons of water and lasts 6 months before needing to be replaced. Installation and replacement are quick and efficient. Each RDSH-C115 package includes one RainDisc showerhead and a WHR-140 filter, which is also the replacement piece for this product. To set up this shower water filter, simply remove your current showerhead, and set the RDSH-C115 in place on an existing standard 1/2-inch shower arm, no tools required. For adjustable height and added length, Culligan's optional RDA-150 RainDisc shower hi-lo arm may also be installed. Wondering about the RDSH-C115's specifications? The RDSH-C115 measures 12"x8"x5.5" and comes in a chrome finish that may fit the interior look of any bathroom.