Culligan WSH-C125 Shower Filter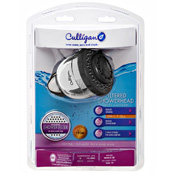 Culligan WSH-C125 Features:
Culligan WSH-C125 is a wall-mount showerhead shower filter
It helps improve shower water quality by filtering out contaminants from water such as chlorine and chemicals
Culligan WSH-C125 dimensions are 4.8"x8.5"x12.2"
It produces 10,000 gallons of filtered clean shower water in quantity
Culligan WSH-C125 shower filter protects hair and skin while showering
Have you ever been concerned about the discoloration or damage that shower water may cause to your hair? Well worry no more with a Level 2 Wall-Mount Showerhead, the WSH-C125 by Culligan. This showerhead water filter reduces chemicals and impurities from your water for a cleaner shower. With a powerful filtration system, the WSH-C125 provides protection against sulfur, chlorine, and scale buildup. This filtration system removes up to 99% of chlorine and other impurities in tap water that often damage hair follicles and cause the scalp to be dry and itchy. The reduction of scale allows for you to enjoy a more hydrating and deep cleansing shower experience. The Culligan WSH-C125 is tailored to you. How? The showerhead features five spray setting to suit your mood. Choose from a full-body spray for maximum water coverage, to an invigorating pulse for a relaxing muscle massage, and anything in between with a twist of the nozzle. The WSH-C125 filters 2.5 gallons per minute, so you can still enjoy a continuous flow of water as with your existing faucet. Wondering about installation for Culligan's WSH-C125? Well, the WSH-C125 replaces the existing showerhead and installs in minutes, requiring no tools. It measures 4.8"x8.5"x12.2". With this showerhead filter you will benefit from pure water for 6 months, as the Culligan WSH-C125 has a 10,000 gallon filtration capacity. Aesthetically, the WSH-C125 comes in a chrome finish, which may match well with any bathroom design.