MOEN 77200 W AquaSuite Under Sink Water Filter Faucet System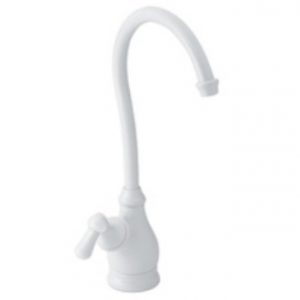 MOEN 77200 W AquaSuite Features:
MOEN 77200 W AquaSuite under sink water filter faucet system is a single mount faucet in White Color
It helps improve water quality by filtering out contaminants from water such as lead, mercury and chlorine
MOEN 77200 W dimensions are 3.6" x 12" x 23.8" inches and it weighs 6.2 pounds
It produces 750 gallons of filtered clean drinking water in quantity
MOEN 77200 W water filter system helps environmental sustainability by helping reduce plastic water bottle waste
Moen has created a water filter with the same great design and function as the Classic Stainless and the Oil Rubbed Bronze 77200, but in striking, vivid white. Yes, the 77200W Aquasuite water filter is an all white faucet filter that makes a bold statement. This white finish may go great with interior designs ranging from shabby chic and funky to eclectic modern. Let it match with the clean white lines of a kitchen or allow it to stand out against a darker backdrop. Either way, the 77200W single handle faucet works to give you clean, healthy water for drinking and cooking. This faucet water filter system allows you to draw water directly from the faucet without the hassle of a bulky, unpleasant attachment. The 77200W has a simple design featuring a faucet that sits up on the counter alongside a tap water faucet, and an under the counter filter that uses carbon block filter technology to deliver you water that is clean and pure. The 77200W also features an elegant high arc spout and a solid lever handle that allows you to easily turn this filter faucet on and off. The 77200W will function well with any bath, bar or kitchen that gets a lot of use. The 77200 is 3.6" x 12" x 23.8" inches, weighs 6.2 pounds, and has LifeShine® finish guaranteed not to rust, dull in color or flake off, providing you with a product that is sturdy enough to last years, yet sleek enough to fit well in your living space. The 77200W comes with a limited lifetime warranty so you can enjoy fresh drinking water from a stylish faucet for years to come. More importantly, the 77200 W filters out toxins including herbicides, insecticides, cyst, lead, mercury, lindane and cloudiness so that your water is safe to drink. To keep the 77200W running efficiently, a built in filter lighter will let you know when it is time to change the filter. Simply replace the filter portion 2 times a year, or after 750 gallons of water, with Moen's 9601 Choiceflo, 9600 Replacement Filter. The Aquasuite water filter is not just a tool to bring you a healthier lifestyle, but it is also does good for the planet by reducing plastic waste and pollution.