MOEN CAF87254 Wickston Under Sink Water Filter Faucet System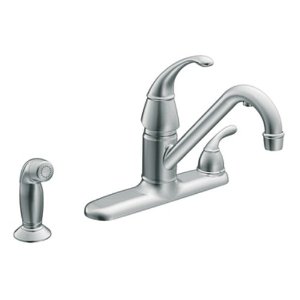 MOEN CAF87254 Wickston Features:
MOEN CAF87254 Wickston under sink water filter faucet system is a single mount faucet
It helps improve water quality by filtering out contaminants from water such as lead, mercury and chlorine
MOEN CAF87254 dimensions are 3.6" x 12.1" x 23.5" inches and it weighs 8.6 pounds
It produces 750 gallons of filtered clean drinking water in quantity
MOEN CAF87254 water filter system helps environmental sustainability by helping reduce plastic water bottle waste
Are you interested in consuming fresh, filtered water without having to fill and refill a water pitcher or waste money on water bottles? The Moen CAF87254 Wickston Filtering Faucet will do just that. The CAF87254 conveniently replaces your old faucet, installs easily, and delivers healthy water for drinking and cooking from a sleek looking faucet with the filter portion that sets up under the sink. The CAF87254 was designed to filter out the impurities found in tap water from herbicides, insecticides, cysts, lead, mercury, lindane, and chlorine, which is the cause of bad taste and odor. CAF87254 is a polished chrome color with a smooth texture that matches many interior designs including contemporary and classic. The CAF87254 features a low-arc spout design and a one-handle lever so that you can easily turn the filtered water on and off. It also has a side spray for tasks like dishes to allow you to clean with filtered water when you see fit. The CAF87254 is a petit 3.6" x 12.1" x 23.5" and weighs 8.6 pounds so it won't take up too much room in your living space, be it a home kitchen or business kitchen. A built in filter light lets you know when the filter needs to be changed. You can expect the CAF87254 to deliver about 750 gallons of filtered water before the filter needs to be replaced. The replacement filter for the CAF87354 is the Moen 9601 Choiceflo Replacement Filter, which can be replaced with no tools and no mess. The CAF87254 will bring you closer to good health and concern for yourself and the environment.