PUR FM-3000 Faucet Water Filter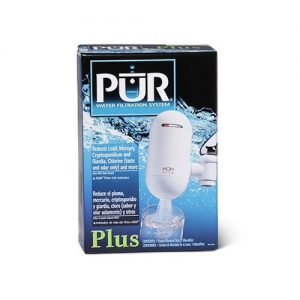 PUR FM-3000 Features:
PUR FM-3000 is a single-piece vertical faucet water filter
Helps improve water quality by filtering out contaminants from water such as lead, chlorine and sediment
PUR FM-3000 dimensions are 9"x6"x2" and it weighs one pound
It produces 100 gallons of filtered clean drinking water in quantity
PUR FM-3000 is an eco-friendly water filter that helps reduce plastic water bottle waste
Are you looking for fresh, filtered water without the expense or hassle? The PUR FM-3000 Plus Faucet is an original PUR Vertical Faucet Filter that produces fresh water on the spot. The FM-3000 is a single-piece faucet mount that easily screws on to your existing spout, sending filtered water directly into your sink. The right side of the FM-3000 conveniently features a switch that allows you to shift from tap water to purified drinking water whenever you need. The FM-3000 is a petit 9"x6"x2", weighs one pound and is a neutral white color, making it the perfect fit for any space. Despite its small size, the FM-3000 still delivers water's essential nutrients and filters out harmful contaminants including benzene, lead, mercury, asbestos, cloudiness caused by chlorine, and sediment. The FM-3000 also eliminates common problems with tap water improving its taste, color and odor. The FM-3000 helps improve health by making water a great drinking option and helps the planet by reducing plastic wasted on water bottles. This PUR Plus faucet features an ASM filter-life indicator that alerts users to change the filter after about 100 gallons or 2-3 months of usage. The replacement element from the FM-3000 is the RF-9999. This PUR MineralClear™ Faucet Mount Replacement Water Filter fits all PUR faucet filter systems and is simple to replace. The RF-9999 comes in a bulk pack to be quickly replaced when the time comes.