PUR FM-3333B Faucet Water Filter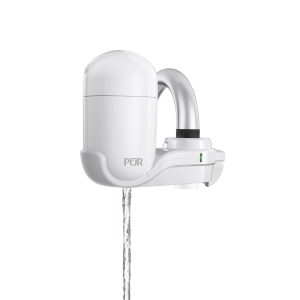 PUR FM-3333B Features:
PUR FM-3333B is a new generation faucet water filter
Helps improve water quality by filtering out contaminants from water such as lead, mercury and chlorine
PUR FM-3333B dimensions are 6.5"x5"x2.5" and it weighs one pound
It produces 100 gallons of filtered clean drinking water in quantity
PUR FM-3333B is an eco-friendly water filter that helps reduce plastic water bottle waste
Want a reliable way to get PUR drinking water? The FM-3333B is a new generation Faucet Water Filter from PUR that comes with one faucet mount and one filter. The PUR Basic features 1-click installation and new finishes that allow it to withstand constant use, great for offices and family kitchens. With a 360-degree swivel, the FM-3333B Faucet Mount screws on to most faucets with ease. The PUR Basic comes in a nude color that may match the interior of any space. The FM-3333B is 6.5"x5"x2.5" and weighs just 1 pound. The FM-3333B has a switch on the right side that allows you to transition from tap water for tasks like dishes and cleaning, to purified water for drinking and cooking instantly. The PUR Basic filtration system is new and improved to filter out 61 unwanted contaminants such as asbestos, lead, mercury, microbial cysts, and additives. The FM-3333B also filters out chlorine, which gives tap water its bad taste and odor. This PUR Basic allows you to enjoy the perks of fresh drinking water in your home without the constant expense of buying plastic water bottles or filling and refilling a water pitcher. The FM-3333B has an electronic filter life indictor that tells you when the filter needs to be changed. The replacement filter for the PUR FM-3333B faucet filter system is the 2-Stage RF-3375, though the 3-Stage PUR RF-9999 filter can be used as well. Both the PUR RF-9999 and PUR RF-3375 filters deliver 100 gallons or about 2-3 months of purified water before needing to be replaced.