PUR FM-3400B Faucet Water Filter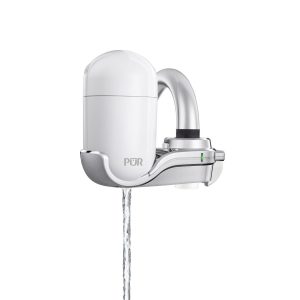 PUR FM-3400B Features:
PUR FM-3400B is an advanced faucet water filter
Helps improve water quality by filtering out contaminants from water such as lead, mercury and chlorine
PUR FM-3400B dimensions are 6.5"x5"x2.5" and it weighs 7.7 ounces
It produces 100 gallons of filtered clean drinking water in quantity
PUR FM-3400B is an eco-friendly water filter that helps reduce plastic water bottle waste
Looking for an advanced water filter to deliver optimum drinking water? The PUR Advanced Faucet Water Filter is the next water filter after the PUR Basic and is an excellent solution to turn your contaminated tap water into clean, great tasting water. The FM-3400B is a 3-stage Vertical Faucet Mount featuring 1-click installation that attaches easily to most faucet spouts, and detaches with the push of a button for quick replacement. The FM-3400B comes with a faucet mount in a sleek silver color, and a RF-9999 faucet filter that is a neutral white to match any type of kitchen. The FM-3400B was designed with durable materials to withstand the wear and tear of high traffic kitchens. FM-3400B is 6.5"x5"x2.5" and weighs just 7.7 ounces. What makes this PUR Advanced Water Filter exceptional is that it filters water over natural minerals, giving you essential nutrients, and fresh, healthy water. The FM-3400B uses MineralClear™ filtration system, which filters out lead, mercury, sediment, dirt, microbial cysts, the bad taste and odor of chlorine, and many other harmful contaminants. The FM-3400B comes equipped with a switch that allows you to go from tap water to purified water for drinking and cooking in a second. It also features an electronic filter life indicator to inform you when the filter needs to be replaced. The FM-3400B provides about 100 gallons or 2-3 months of purified water before needing to be changed. The replacement piece for the FM-3400B is the RF-9999. The RF-9999 can be bought in bulk and is quick to set up.