PUR FM-3700B Faucet Water Filter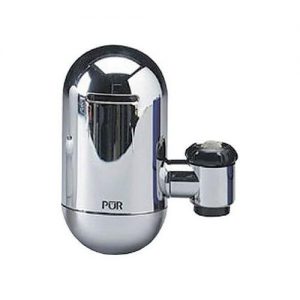 PUR FM-3700B Features:
PUR FM-3700B is a vertical mount faucet water filter
Helps improve water quality by filtering out contaminants from water such as lead, mercury and chlorine
PUR FM-3700B dimensions are 4"x5"x6" and it weighs less than 1 pound
It produces 100 gallons of filtered clean drinking water in quantity
An electronic filter life indicator is part of PUR FM-3700B
PUR FM-3700B is an eco-friendly water filter that helps reduce plastic water bottle waste
Do you have problems with murky, smelly or bad tasting tap water? If so, the PUR MineralClear™ Vertical Mount Faucet Water Filter is a great solution to getting fresh, filtered drinking water. The FM-3700B is an advanced water filter by PUR designed to filter out the numerous impurities commonly found in tap water including heavy metals like lead and mercury, agricultural pollutants like herbicides and pesticides, industrial pollutants like gasoline, microbial cysts, and chlorine, the main cause of bad taste and odor. The FM-3700B uses mineralclear's advanced 3-stage filtration technology that filters over minerals to provide you with water that is full of nutrients. The FM-3700B can be installed without tools and attaches easily to most faucet spouts. The FM-3700B was designed with durable materials to allow it to withstand the wear and tear of a communal kitchen. The FM-3700B comes in three shades to match any interior style: white, chrome and black. The FM-3700B is 4"x5"x6" and weighs less than 1 pound. Its petit size allows it to blend in with the aesthetic of any home or office as well as not overcrowd a sink. On the right side of the FM-3700B is a switch that allows you to alternate between tap water and filtered water whenever you need. This vertical faucet mount features one faucet piece, which attaches to the vertical filter. The FM-3700B also features an electronic filter life indicator that reminds you after about 100 gallons of usage to change the filter. The replacement filter for the PUR FM-3700B faucet filter system is the 3-Stage PUR RF-9999 filter. The RF-9999 can be bought in bulk for quick replacement and works for about 100 gallons, or 2-3 months.