PUR FM-4100B Faucet Water Filter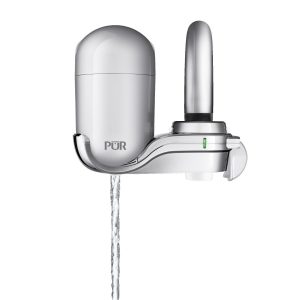 PUR FM-4100B Features:
PUR FM-4100B is a high quality faucet water filter
Helps improve water quality by filtering out contaminants from water such as lead, mercury and chlorine
PUR FM-4100B dimensions are 6.5"x5"x2.5"and it weighs 1 pound
It produces 100 gallons of filtered clean drinking water in quantity
A built-in filter life indicator is part of PUR FM-4100B
PUR FM-4100B is an eco-friendly water filter that helps reduce plastic water bottle waste
If you are looking for a top of the line water filter for everyday use, then there is no need to look further than PUR's MineralClear™ Vertical Faucet Water Filter, the FM-4100B. The FM-4100B features high-quality construction, which makes a durable product for high traffic kitchens. The FM-4100B is 6.5"x5"x2.5", weighs 1 pound and comes in a stainless steel color, to go with any sleek or modern interior design. The FM-4100B Faucet Water Filter System comes with one filter which screens and removes impurities such as lead, mercury, sediment, asbestos, microbial cysts, and the bad taste and odor brought on by chlorine. Using MineralClear™ filter technology, the FM-4100B filters over natural minerals for refreshing, nutritious water. With the flip of a switch on the right side of this filter, The FM-4100 allows you to shift from tap water to filtered water for drinking and cooking, and back again. The PUR FM-4100B faucet system is a tilt up design, which installs effortlessly and quickly without tools The FM-4100B features a 360-degree swivel that allows it to attach easily to most faucets and fit well without taking up too much space in a sink. The FM-4100B has a push-button that makes it easy to remove and replace. The built-in filter life indicator reminds you when it is time to change the filter. The replacement filter for the PUR FM-4100B faucet filter system is the advanced 3-Stage RF-9999. The PUR RF-9999 works for up to 100 gallons or about 2-3 months before needing to be replaced.