PUR FM-5050B Faucet Water Filter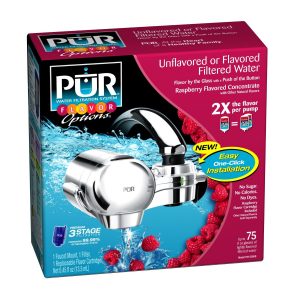 PUR FM-5050B Features:
PUR FM-5050B is a high quality faucet water filter
Helps improve water quality by filtering out contaminants from water such as lead, mercury and chlorine
PUR FM-5050B dimensions are 6.5"x3.5"x7"and it weighs 1 pound
It produces 100 gallons of filtered clean drinking water in quantity
A built-in electronic filter life indicator is part of PUR FM-5050B
PUR FM-5050B is an eco-friendly water filter that helps reduce plastic water bottle waste
PUR has blended the best of both worlds and put them together in one product, the FM-5050B. The PUR Flavor Options Faucet Water Filter delivers not only purified, healthy drinking water but also fruit-flavored water. The FM-5050B uses the MineralClear™ three-stage purification system to filter out unwanted contaminants common in tap water. The filter's first stage traps sediment, like dirt, rust, and sand, while the second stage filters contaminants like chlorine, gasoline additives, heavy metals, trace pharmaceuticals, and illness-producing microbes. In the third stage, water is filtered over natural minerals to provide you with great taste and health benefits. The result? Water that looks, tastes, and smells cleaner. The FM-5050B is unique because of its ability to deliver flavored water with the push of a button. The FM-5050B comes with one raspberry flavor pack to start. Extra PUR flavor cartridges are available in four flavors: grape, strawberry, raspberry, and lemon. The flavor cartridges contain no added calories, sugar, or dyes, just a kick of thirst quenching flavor. Each cartridge delivers about 75 servings of flavored water. The FM-5050B is 6.5"x3.5"x7", weighs one pound and comes in a neutral gray color to match any kitchen space. This horizontal mount filter clicks onto any standard faucet requiring no tools for installation. The FM-5050B comes of just as easy—simply push a button and replace. The FM-5050B features a built-in electronic filter life indicator that informs you when it is time to change the filter. The indicator flashes green, yellow, or red with use, to signal how much filtering life is left. The PUR FM-5050B faucet water filter cleans up to 100 gallons of water, lasting 2-3 months. Simply replace the filter with the PUR RF-9999.