PUR FM-8100 Faucet Water Filter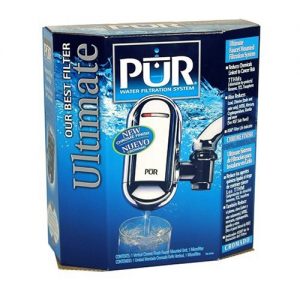 PUR FM-8100 Features:
PUR FM-8100 is a contemporary vertical mount faucet water filter
Helps improve water quality by filtering out contaminants from water such as lead, mercury and chlorine
PUR FM-8100 dimensions are 14.2"x4.1 x 8.4"and it weighs just 8 ounces
It produces 100 gallons of filtered clean drinking water in quantity
An automatic safety monitor is part of PUR FM-8100 acting as a water filter life indicator
PUR FM-8100 is an eco-friendly water filter that helps reduce plastic water bottle waste
Have you ever wondered why your tap water tastes funny or has a bad smell, and what you could do to change that? The PUR FM-8100 is a Faucet Water Filter that eliminates harmful chemicals, bad odors and flavors from tap water. PUR's new Ultimate filtration line improves on preceding PUR Advantage models, eliminating additional impurities. It also filters out contaminants such as microbes, giardia, lead, mercury, asbestos, copper, zinc, sediment, and chlorine to deliver you fresh, tasty drinking water. The FM8100 system easily connects onto faucet spouts sending a stream of filtered water into a sink. The FM8100 tilts back to allow you to handle tasks like dishwashing, and forward again for filtered drinking and cooking water. The FM8100 is a stylish chrome-plated color with a contemporary design. Weighing a petit 8 ounces and measuring 14.2"x4.1 x 8.4", the FM8100 is suitable for any kitchen, be it in the home or at the office. The FM8100 is also an excellent tool to help the environment. PUR's Ultimate Filters encourage you to drink more water, spend less money on bottled drinks, and reduce waste. The FM-8100 features an automatic safety monitor that notifies users when it's time to replace the filter. Filters last about two to three months, or 100 gallons worth of filtered water. The replacement piece is the RF-9999 or RF-4050 and may be purchased in bulk to make filter changes quickly and easily.