PUR FM-9100B Faucet Water Filter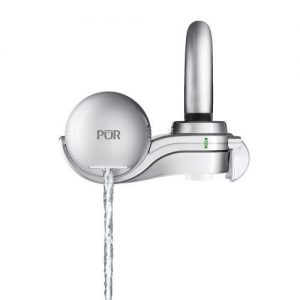 PUR FM-9100B Features:
PUR FM-9100B is a 3-Stage Horizontal Faucet Mount Water Filter
Helps improve water quality by filtering out contaminants from water such as lead, mercury and chlorine
PUR FM-9100B dimensions are 6.5"x3.5"x7" and it weighs 1.3 pounds
An electronic filter-life indicator is part of PUR FM-9100B
PUR FM-9100B is an eco-friendly water filter that helps reduce plastic water bottle waste
What is better than a water pitcher and a plastic water bottle? The FM-9100B, a 3-Stage Horizontal Faucet Mount Water Filter by PUR. The FM9100B uses MineralClear™ 3-stage carbon filter system. The filter's first stage traps sediment, like dirt, rust, and sand, while the second stage filters contaminants like chlorine, gasoline additives, heavy metals, trace pharmaceuticals, and illness-producing microbes. In the third stage, water is filtered over natural minerals to provide you with great taste and health benefits. The result is water that tastes, smells, looks great and contains health benefits. The FM9100B is a great way to introduce water as a drink in any home. The FM9100 is constructed horizontally so as to not get in the way of your faucet. The FM9100 is 6.5"x3.5"x7", weighs 1.3 pounds, and comes in a chrome color in order to blend in well with most kitchen pieces and room décor. The FM9100B features push-button removal so that it may easily be replaced when you need extra space in the sink or when the filter needs to be changed. Working in conjunction is the electronic filter-life indicator that reminds you to change the filter after its 100 gallons of use, or 2-3 months. The replacement element is the RF9999, which can be bought in bulk for a quick and seamless transition into a new filter.