PUR FM-9400B Faucet Water Filter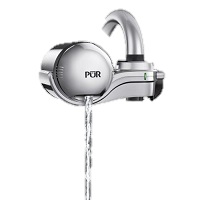 PUR FM-9400B Features:
PUR FM-9400B is an advanced Faucet Water Filter
Helps improve water quality by filtering out contaminants from water such as lead, mercury, sediment and chlorine
PUR FM-9400B dimensions are 4"x5"x5" and it weighs 1.3 pounds
PUR FM-9400B uses a 3-stage filtration system
PUR FM-9400B is an economical and eco-friendly water filter that helps reduce cost and waste of plastic water bottles
If you enjoy drinking and cooking with fresh, clean water, then the PUR FM-9400B is for you. The FM-9400B is PUR's AdvancedPlus Faucet Water Filter is designed to turn tap water into tasty and healthy drinking water. The FM-9400B comes in three trendy yet neutral shades: chrome, silver and white. Whether you prefer the FM-9400B in chrome for a modern look, or in white for simplicity, the function is the same. The FM-9400 weighs 1.3 pounds and measures 4"x5"x5". The FM-9400B's small size allows it be attached and detached easily without adding too much bulk to a sink. The FM-9400B works to remove harmful contaminants found in tap water. Using MineralClear™ filtration system, the FM-9400B filters out sediment, chlorine, gasoline additives, heavy metals, trace pharmaceuticals, illness-producing microbes, and many more. The FM-9400 uses a 3-stage filtration system, and consists of one water filter and one faucet mount. After filtering water over minerals, the FM-9400 delivers pure, healthy drinking water that is void of bad taste, color, or odor. The FM-9400B is also a great tool for the environment and for people. It reduces pollution and amount of plastic wasted through water bottles, as well as encourages people to drink more water. The FM-9400B delivers 100 gallons or 2-3 months of purified drinking water. The replacement piece for this PUR 3-Stage Horizontal Faucet Mount water filter is the PUR RF-9999. The RF-9999 is just as easy to attach as the original filter and can be bought in bulk so that users can enjoy the benefits of purified water without inconvenience.