PUR FM-9600B Faucet Water Filter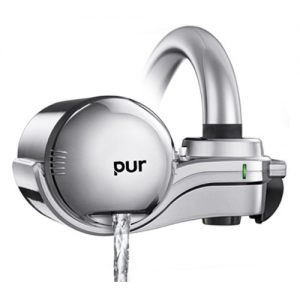 PUR FM-9600B Features:
PUR FM-9600B is an advanced horizontal Faucet Water Filter
It helps improve water quality by filtering out contaminants from water such as lead, mercury, sediment and chlorine
PUR FM-9600B dimensions are 6.5"x3.5"x7"
It produces 100 gallons of filtered clean drinking water in quantity
PUR FM-9600B uses a 3-stage filtration system
PUR FM-9600B is an economical and eco-friendly water filter that helps reduce cost and waste of plastic water bottles
It's true. Many water filters do not adequately remove impurities from your tap water and in fact, many common bottled water brands leave behind impurities in their products as well. One brand that can be trusted is PUR. The FM9600B by PUR is a Horizontal Faucet Water Filter that uses an advanced 3-stage filtration system to filter out harmful contaminants including heavy metals like lead and mercury, sediment, dirt, microbial cysts such as cryptosporidium and giardia, asbestos, methane and MTBE, a clear liquid composed of methanol and isobutylene that is found in gasoline, the bad taste and odor of chlorine, and numerous other harmful impurities. The benefits to using a faucet water filter like the FM9600B are endless. Not only will it provide you and all who use tap water with safe, healthy water to drink and eat, it will also reduce money and plastic spent on water bottles. And yes, the PUR FM9600 is easy to set up, simple to use, and functional for every day life. Because of its horizontal design, it attaches easily to your faucet and stays out of the way. A lever on the side allows you to alternate from unfiltered water for tasks like washing dishes, to filtered water for drinking and cooking with the flip of a switch. The PUR FM9600B also features a sleek design and is petit in size. It comes in a neutral white shade and measures 6.5"x3.5"x7" making it an ideal fit for almost any sink and kitchen interior design. The PUR FM9600B is also functional for public spaces, including schools and offices. A filter change indicator informs you when it is time to change the filter. To change the filter, keep the same faucet piece and every 3 months, simply replace the filter with the 3-Stage RF9999 replacement filter to ensure your tap water remains safe and healthy to consume.