PUR DS-1800Z Water Dispenser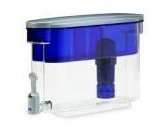 PUR DS-1800Z Features:
PUR DS-1800z 18 cup water dispenser has an efficient design for optimum use
It helps improve water quality by filtering out contaminants from water such as lead, chlorine and sediment
PUR DS-1800z 2- stage water dispenser dimensions are 14.1"x9"x7.6" and it weighs 4 pounds
It produces 40 gallons of filtered clean drinking water in quantity
PUR DS-1800z dispenser is an eco-friendly water filter that helps reduce plastic water bottle waste
A pour through water pitcher filter like PUR's DS-1800Z dispenser is a must have in any home. It is affordable, functional, and low maintenance. That means whether you're a college student, full time parent, or an on the go worker, you can both use and benefit from the DS-1800Z dispenser water pitcher filter. How? With PUR DS-1800z water dispenser, you no longer have to worry about the contamination of your water supply, hoping for healthy, clean drinking water. Using a carbon water filter, this water dispenser with built-in PUR water filter provides protection again sediment, chlorine taste and odor and other pharmaceuticals, but also leaves you with beneficial fluoride, which helps reduce tooth decay. The DS-1800z is portable and maneuverable as well. You may have access to fresh drinking water wherever you take it, be it to work or on vacation. While it holds 18 cups, or 1.125 gallons of water at a time, it also features a narrow space saving design that allows it to fit easily into nooks of your refrigerator or counter, as well as the sink when it comes time to fill the canister. PUR's DS-1800z water dispenser compared to other PUR water pitcher filters is especially helpful for big families and large households. The DS-1800z canister can hold a sizeable amount of water, and the built in filter provides 40 gallons of purified water so that the filter needs to be replaced only bi-monthly. With such a large mass, the DC-1800z features handles on each side for easy carrying and lever at the bottom that allows filtered water to dispense into a cup, bottle or vessel without having to tilt or lift it up the canister. PUR DS-1800z water dispenser is incredibly user friendly also. This water pitcher filter features a canister or body, a filter section, a lid that seals in the water, and a lever for dispensing water. It requires no tools or outside help for set up or for filter replacements. The replacement piece for the DS-1800z is the PUR CRF-950Z water filter replacement, which can be purchased in advance for efficient filter replacements.