PUR CR-4000 Water Pitcher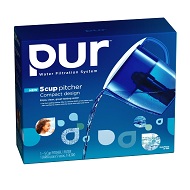 PUR CR-4000 Features:
PUR CR-4000 is a 5 cup water pitcher
It helps improve water quality by filtering out contaminants from water such as chlorine, zinc and sediment
PUR CR-4000 easily fits onto countertops and refrigerators
It produces 40 gallons of filtered clean drinking water in quantity
PUR CR-4000 is an eco-friendly water filter that helps reduce plastic water bottle waste
Are you interested in a water pitcher that will meet the needs of your 2 or 3-person home? Meet the PUR CR-4000 5 cup water pitcher filter. This water pitcher is just the right size and holds just enough water to supply yourself or a small family with great tasting, smelling, and healthy water. Wondering its dimensions? The CR-4000 measures 4.8"x11.3"x10.1" and weighs 1.8 pounds. PUR CR-4000 water pitcher holds up to 5 cups of water at a time so you can fill the pitcher with water, pour yourself a glass, and then store the rest on the counter or in the refrigerator for a later time. Set up and use of the CR-4000 water pitcher s simple. Once the water filter is placed inside the pitcher, you open the lid and fill it with water as the water filter sends fresh, purified water trickling down into the canister of the water pitcher. What's unique about PUR's CR-4000 water pitcher is its size. It is equipped to remove many of the same contaminants as larger water pitcher filters, including microbial cysts, chlorine (taste and odor), and trace levels of pharmaceuticals; however, this water pitcher is extremely portable. This means you can not only enjoy filtered water from your kitchen, but from an outdoor bar, at your office, on a trip, or wherever you decide to bring your CR-4000 water pitcher. Another great feature of the CR-4000 is that it filters over natural minerals so that water's beneficial nutrients are not lost in the filtration process. With PUR's CR-4000 water pitcher, be encouraged to drink more water, save money, and contribute to the well being of the environment. The CR-4000 filters 40 gallons of water, which translates to 2 months of use and hundreds of water bottles saved. Replace the water filter bi-monthly with the PUR CRF-950Z pitcher filter replacement. To ensure that you can enjoy continuous fresh water without hassle, you may purchase the filter replacements in bulk.