PUR CR-6000 Water Pitcher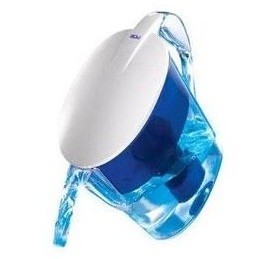 PUR CR-6000 Features:
PUR CR-6000 water pitcher holds up to 7 glasses of filtered water
It helps improve water quality by filtering out contaminants from water such as chlorine, zinc and sediment
PUR CR-6000 easily fits onto countertops and refrigerators
It produces 40 gallons of filtered clean drinking water in quantity
PUR CR-6000 is an eco-friendly water filter that helps reduce plastic water bottle waste
Looking forward to a weekend trip outdoors? If so, among your list of things to bring should be a water pitcher filter, like the CR-6000 by PUR. This 7 cup capacity pitcher water filter is great for a small group of people who want to enjoy water not only without detriment to the environment through mass manufactured plastic water bottles, but who also want to know that their water is safe and healthy to drink. The CR-6000 removes chlorine, 96% of trace pharmaceuticals, and 99% of microbial cysts. But you don't have to be a traveler or camper, or even environmentally conscious, to benefit from PUR's CR-6000 water pitcher. It works just the same in your home for the casual user. This water pitcher features handles for easy holding and carrying, as well as a narrow oval shape so that it fits well in your sink for refills, and in small spaces on your countertop or refrigerator. With the CR-6000 you can enjoy filtered water from the convenience of your own home, office, or RV without the expense. One advantage that this water pitcher filter has over other water filters such as whole home filter or sink water filters is that it does not require extensive time or effort to set up and use. It comes with a built in filter so that when you fill up the water pitcher with tap water, the water trickles through the water filter, becoming purified drinking water in moments. PUR CR-6000's manageable size makes it easy for not only adults, but children and seniors as well. Wondering its dimensions? The CR-6000 measures approximately 15"x5.5"x9.75". It provides 40 gallons, or 2 months worth of filtered water so that you can stay healthy longer. Filters should be replaced bi-monthly with the PUR CRF-950Z pitcher filter replacement, and can be bought in advance for more efficient use.