PUR CR-6000C Water Pitcher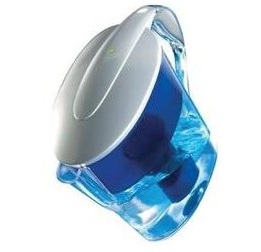 PUR CR-6000C Features:
PUR CR-6000C 2-Stage water pitcher holds up to 7 cups of filtered water
It helps improve water quality by filtering out contaminants from water such as chlorine, zinc and sediment
PUR CR-6000C easily fits onto countertops and refrigerators
It produces 40 gallons of filtered clean drinking water in quantity
PUR CR-6000C has in-built LED light indicator for water filter life
It is an eco-friendly water filter that helps reduce plastic water bottle waste
Are you shopping for a water filter that works like a built in home system, but that is also portable? If so, a pitcher water filter like the PUR CR6000C is just that. The PUR CR6000C water pitcher carries 7 cups of filtered water at a time. It's just the right size for an individual, small group or a family. It features an oval shape, a handle for carrying, and its space saving design allows it to fit in small spaces in the refrigerator or on the counter. Its manageable size makes it so that you can transport in from the kitchen to the outdoors or from your home to work easily. The CR6000C removes 14 harmful contaminants including lead, mercury, zinc, cooper, cadmium, pharmaceuticals, and chlorine. But not only is the PUR CR6000C water pitcher versatile in terms of portability, it is also user-friendly. Installation takes only minutes, as it does not require tools, outside assistance, or any complicated parts. The filter is built into the pitcher and sits at the top of the vessel so that when you add tap water, it goes through the filter first, and then trickles down into the pitcher as fresh, clean water for drinking and cooking. Another helpful feature of PUR's CR6000C water pitcher is that it has a built in filter life, LED light indicator so that you know when your filter is working properly, and when it needs a replacement. A green light shows that the filter has full life. A yellow light indicates that filter replacement time is nearing, and a red light warns that a filter replacement is needed. This PUR 7 cup water pitcher filter with electronic filter change light works for 40 gallons of water, and has a life of about 2 months. Just like set up, filter replacement is quick and painless. Extra filters can bought in advance so you can enjoy purified water without interruption. The replacement filter for the CR6000C is the PUR CRF-950Z pitcher filter.