WaterChef Bestfilters CTP 100 Countertop Water Filter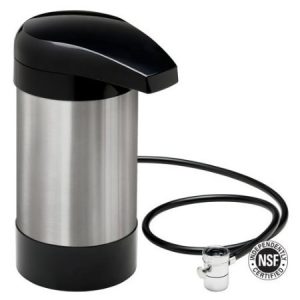 WaterChef Bestfilters CTP 100 Features:
Bestfilters CTP 100 is a Countertop water filter connected to sink water faucet
It helps improve water quality by filtering out contaminants from water such as lead, cyst and chlorine
This Countertop water filter's dimensions are 5" in diameter and 10" in length
It produces 600 gallons of filtered clean drinking water in quantity
Countertop water filters help promote environmental sustainability by assisting in reduction of plastic water bottle waste
Are you looking for a water filter that won't add bulk to your sink or constantly need to be refilled? The CTP100 by Bestfilters is a countertop water filter that holds and filters 600 gallons of water so that you can enjoy water that is fresh and safe to drink. This Countertop Water Filter is a premium quality water filtration system designed to meet the modern demands and concerns over the quality of our tap water. Using a solid carbon refined coconut shell for a filter, the CTP100 delivers excellent tasting water. Bestfilters' CTP100 countertop filter substantially reduces a number of common contaminants from your water supply including cyst, lead, dirt particles, pesticides and herbicides, fertilizers, methanol and isobutylene found in gasoline, and chlorine which causes bad taste and odor. This Countertop Home Water Filter System measures 5" in diameter and 10" in length. Its compact size allows it to easily fit on your kitchen counter and may also work great for dorm rooms, offices, RVs and cabins. The CTP100 works when you connect the valve to a faucet, giving you 100 gallons of purified water. Unlike other filters, such as faucet filters or water pitcher filters, this Bestfilter Countertop filter works for 600 gallons per cartridge, which totals more than 6,000 plastic water bottles. That means the CTP100's filter cartridge only needs to be replaced about once a year, saving you time and money. The CTP100 is available in stainless steel and white as well as stainless steel and black, both neutral options to match the existing look of your living or business space. More importantly, with the CTP100 you get a sturdy and reliable product for a reasonable price. This Bestfilters filter comes with a lifetime housing warranty for the filter casing as well as a two-year warranty on its parts. The replacement filter cartridge is the REPCTP100. Simply replace the filter every 12 months to ensure your water is safe to drink.