WaterChef Essence AHW35 Countertop Water Filter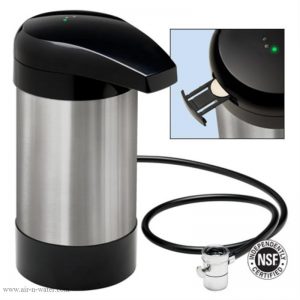 WaterChef Essence AHW35 Features:
Essence AHW-35 is a Countertop water filter connected to sink water faucet
It helps improve water quality by filtering out contaminants from water such as lead, cyst and chlorine
This Countertop water filter's dimensions are 15″ x 12″ x 6″
It produces 1,000 gallons of filtered clean drinking water in quantity
Countertop water filters help promote environmental sustainability by assisting in reduction of plastic water bottle waste
Are you ready to serve the people you care about healthy, great tasting water in a cost efficient manner? Look no further than the Essence AHW-35 Countertop Water Filter. This water filter lasts 12 months, providing you with more than 1,000 gallons of fresh filtered water. That means more money saved, less plastic waste, and more people enjoying the benefits of pure drinking water. This countertop water filter is designed to substantially eliminate a number of tap water contaminants such as cyst, lead, dirt particles, MTBE, a chemical found in gasoline, and chlorine, which causes bad taste and odor. This Essence Countertop Water filter is ideal for homes, offices, schools, and any place that sees a lot of foot traffic. The Essence AHW-35 is so simple to install and easy to use—it connects to your kitchen faucet without any tools, and works great for areas where permanent under counter plumbing connections are prohibited. This countertop water filter features a stainless steel design that is both functional and sleek looking. The AHW-35 comes in black, white, and granite finishes, making it a great fit for a simple office, an elegant kitchen, or a trendy dorm room. The AHW-35 is just big enough to filter large quantity of water, but small enough to fit easily on your counter. It measures 15″ x 12″ x 6″ and weighs 6.20 lbs. The AHW-35 features a filter life indicator that tells you when it's time to change the filter cartridge, which conveniently is only once a year. The replacement element for the AHW-35 is the Essence A-35 Replacement Cartridge.