WaterChef Essence HW35 Countertop Water Filter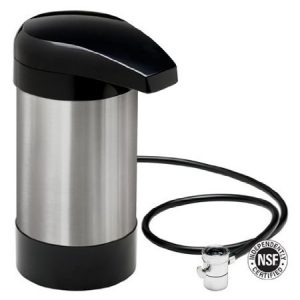 WaterChef Essence HW35 Features:
Essence HW-35 is a Countertop water filter connected to sink water faucet
It helps improve water quality by filtering out contaminants from water such as lead, cyst and chlorine
This Countertop water filter's dimensions are 15″ x 12″ x 6″ and weighs 6.2 lbs
It gives 600 gallons of filtered clean drinking water in quantity
Countertop water filters help promote environmental sustainability by assisting in reduction of plastic water bottle waste
Are you concerned about the quality of water that you and your family drink from your kitchen faucet? The Essence HW-35 Countertop Water Filter is a small countertop unit that provides not only fresh tasting water from the convenience of your home, but also water that is safe and healthy to drink. This countertop water filter effectively filters out a wide range of harmful substances from tap water such as cyst, lead, dirt particles, MTBE, a chemical found in gasoline, and chlorine, the culprit of bad taste and odor. The Essence HW-35 is available in a neutral stainless steel with white, black, and granite accents to match any type of interior design. The Essence HW-35 countertop water filter requires no permanent installation, plumbing services, or tools to set up. Simply place this 6.2 lbs, 15"x12"x6" filter on your counter next to a sink, attach the nozzle to your existing faucet, and receive pure water for drinking and cooking. A single cartridge in the Essence HW-35 will filter up to 600 gallons of water, and will only need to be changed at about 2 times per year with regular household use. One single cartridge, or 600 gallons of filtered water, is the equivalent of 6,000 plastic water bottles. So not only does the Essence HW-35 save you money, it saves the planet waste. The replacement filter cartridge for the Essence HW-35 is the CR65.