WaterChef C7000 Countertop Water Filter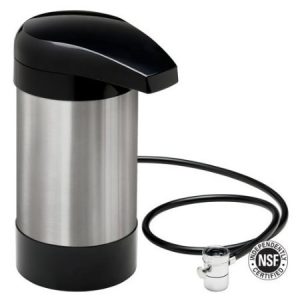 WaterChef C7000 Features:
Waterchef C7000 is a Countertop water filter connected to sink water faucet
It helps improve water quality by filtering out contaminants from water such as lead, cyst and chloramine
This Countertop water filter's dimensions are 6.8" x 4.8" x 10.2"
It gives 1,000 gallons of filtered clean drinking water in quantity
Countertop water filters help promote environmental sustainability by assisting in reduction of plastic water bottle waste
Have you ever wondered what are the benefits of drinking filtered water or what makes buying a water filter a worthy investment? Well, WaterChef's C7000 is a high quality counter water filter that will show its health, economic, and environmental benefits. The C7000 uses WaterChef's Big Block Filtration technology to maximize contaminant reduction. This formula allows for the C7000 to filter out a many common impurities found in tap water including chlorine, chloramine, lead, cysts, synthetic contaminants such as pesticides and herbicides, industrial contaminants, yet leave you with beneficial minerals like calcium, magnesium, and potassium. The result is water that tastes cleaner, smells better, and is genuinely healthy to consume. The C7000 features a stylish, space saving design. Measuring 6.8" x 4.8" x 10.2" and weighing 6.1 lbs, the C7000 fits nicely on most counters next to the sink and attaches to your existing faucet. This counter water filter is not only stylish, but durable. It comes in a stainless steal finish with your choice of black or white accents to match the interior design of a home, apartment, office, dorm room, school, or any place where multiple people can enjoy the luxury of filtered water. It features a 2-way driver valve that allows you to easily switch from tap water for certain tasks, to purified water for drinking and cooking. Unlike other water filters such as pitcher filters or faucet filters in which cartridges need to be replaced countless times a year, the C7000 allows you to enjoy filtered water at a fraction of the cost because it features a 1,000 gallon cartridge capacity. One thousand gallons of filtered water is equal to more than 7,000 plastic water bottles, and for most households, translates into only 1 filter cartridge placement a year, or every 12 months. The C7000 by WaterChef also features an Intelligent Monitor that measures usage so that you will not discard a filter cartridge before needed, or keep using one that is no longer fit to filter water. The monitors LED indicators are located on the top of the C7000 filter. Green indicts normal operation, yellow indicates that the filter has less than 10% of life left, and red warns that filter capacity has been reached and it is time to change the filter cartridge. The replacement filter for the C7000 is the Genuine WaterChef CR70.